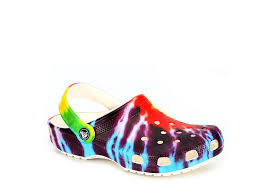 By Nijah Randolph-Williams
LifeAtStart.com
When you think of Crocs, there are one of two things that probably come to mind; either that they're the worst shoes ever, or if you're anything like me, you love them.
Crocs were not always as big as they are now, the company once went bankrupt in 2009, and even planned on closing in 2018, until they made a comeback. The company changed some things about their shoes making them popular among teenagers. The most popular shoe from the brand, clogs, began adding brighter colors, and many different designs to their line up, making them more appealing to the eyes. People might think Crocs aren't high fashion, but the shoes are highly popular in the modeling world. Models regularly wear them on the runway, and one pair even sold for $850, before they were even on sale.
I always loved Crocs, I realized that they're so ugly, it kinda makes them cute. Not only are the shoes comfortable for everyday use, but their great for certain athletes who play sports like softball or baseball, to have during practice. There are even fur lined Crocs that are good for the colder seasons to keep your feet extra warm. The fun thing about having a pair of Crocs, is that you can customize them and make them your own personalized shoe. There are things called Jibbitz, which are charms that you can use to fill the holes in the shoe. They come in many different styles from characters Jibbitz, to food Jibbitz.
The brand has one strategy for continuing to stay popular, stay ugly. The company has no plans of changing the shoe in any way besides color and graphics. They believe if they change the look of the shoe, it will no longer stand out and be unique, and I agree. The shoe wouldn't stand out if it looked like any ordinary shoe. The part that makes it stand out is that everybody thinks they look bad, but it doesn't stop most people from wearing them either.
Over the past few years, Crocs have become a billion dollar company, and more and more people began wearing the shoe. I think it goes to show how not all popular things are what you would expect them to be, and being unique is kinda cool. Overall, the company has continued to let people show their creative sides, while in the process of rising to be one of the most known shoe brands.