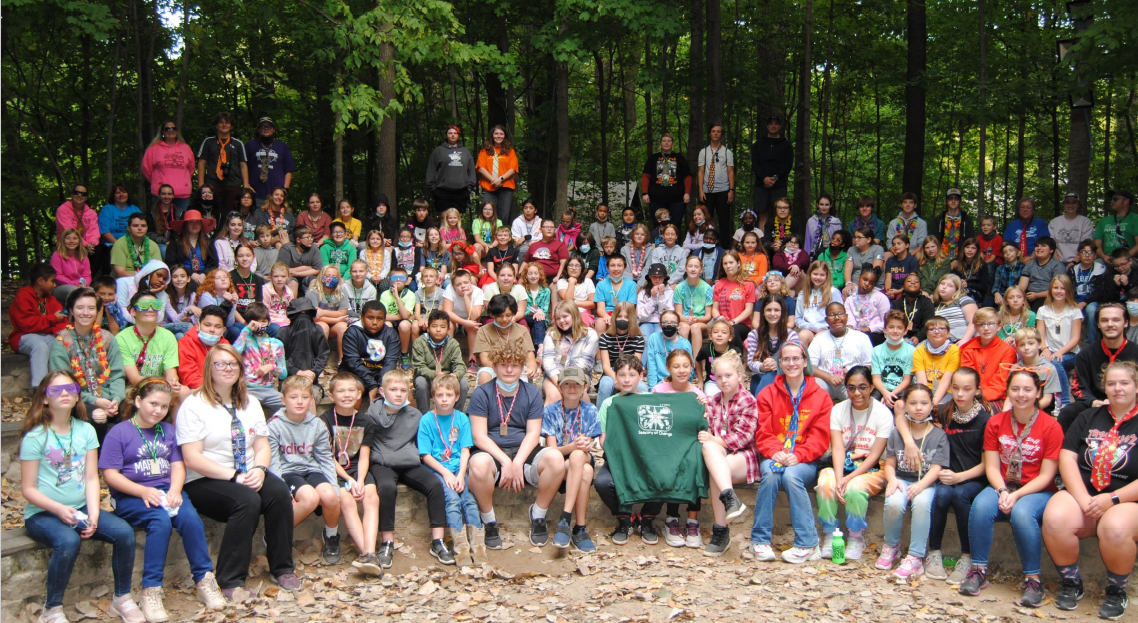 By: Lillian Holmes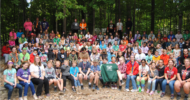 Supercamp Background:
Supercamp was founded in 1975 by adult and teen 4-H Junior Leaders. The goal of this camp was to create a safe and fun environment for children ages 8-13 years old's to be themselves for a weekend. Back in 1975, the camp cost $5 and a can of soup! Though things have changed drastically since then it is still a camp for 8-13 year-olds to go and enjoy themselves for a weekend. "The Supercamp team strives to promote group acceptance and celebrate the uniqueness of every camper." (Supercamp)
Supercamp is located in County Rd Mn, Fayette, OH in a 4-H camp called 4-H Camp Palmer. The campground itself is used for many different camps, but Supercamp is held here every 12 months around April-May. Because of Covid-19, the 2020 camp was canceled, and to make up for the loss of the camp they have planned to have two this year. October 1st-3rd 2021 and then another in May 2022, April 29th-May 1st 2022.
The First Day of Camp (Friday)
Cabin/Lodge(s): Kids arrive around 6:45 pm at Camp Palmer. They will be greeted by counselors who are mainly 14+ years old. They will show parents to the cabins that their children will be separated into for the weekend where they can sleep. There is a female and male side of cabins so females and males will be separated. There is a building called "The Lodge" where 12-13-year-olds are located. Since they are older and will be watched to become CIT's (counselors in training) in the future which will also be separated, one room for males and one for females. Each cabin or lodge room will have 2-4 male or female counselors sleeping in the room and will have at least one counselor at a time so that if a child has a question or needs someone they have someone at all times. Once kids are all set up for the night they will be sent to what is referred to as the Rec Hall, which is a large open building where the door can slide open and kids will play games, and make friends while waiting for other children to arrive.
Pride Groups: Once everyone arrives and is set up for the night (parents are gone at this point) children will be split into what the camp calls Pride Groups, which is a group of male and female children in a group around 15-17 kids per group with 3-4 counselors at all times. This is Supercamp's way of allowing campers to experience new things and allows them to meet new people. The group's goal is to get kids out of their comfort zones and use groups of people which is needed after our year and a half long quarantine. Kids will spend 90% of their time in these Pride Groups (which are usually numbered 1-6) and the goal is for them to feel a sense of importance and ultimately feel needed and welcomed by their peers.
Campers in their cabin groups located in the Rec Hall
The Second Day of Camp (Saturday)
Friday night is always the hardest for both counselors and campers as the kids are in a new environment and need to get used to it, it can be quite hard for kids to sleep. But waking up at 7 am sharp counselors get the campers ready for the day.
Meals: The camper's are lined up in their cabin groups and are led to what is called the Dining Hall where most meals will be held. Here kids will separate into their Pride Groups where they will sit at a table and eat family style four times on Saturday, and twice on Sunday morning. On Saturday campers are served breakfast, lunch, dinner, and snacks (snack is after campfire and design slideshow) and on Sunday they will be served breakfast and lunch.
Pride Group Sessions: After every meal, campers will split up into their Pride Groups where they will have Pride Group Sessions. These sessions are for campers to get to know each other throughout the weekend. Counselors will lead name games, songs, games, hikes, and other fun things throughout the Pride Group sessions. On the first meeting, they usually go over camp rules and names so everyone knows who each other are.
Team building in Pride Groups
Morning Sessions: Morning sessions are where Pride Groups will spend most of their early morning until lunch. Campers will be led throughout camp doing fun things. Some of these include the Game Session where kids will spend most of their time playing games, once that is up they will switch through different sessions like Songs, Crafts, Hiking, Stomp, Dance, and more. After these sessions, kids will have lunch.
Evening Sessions: Evening sessions are a lot like Morning Sessions, they involve different games, team-building team-building exercises, and more. An example of one of the team-building games that campers usually do is called "Silent Sorting". It's when counselors pick a topic for the campers. Then without speaking the campers have to figure out how to sort themselves. For example, for birthday months, kids will have to organize themselves by their birth months from January to December.
Evening Night Program: The Evening Night Program is some of the staff and counselors' favorite activities on the weekend. This night is when every single member of staff, counselors, and campers gather in the Rec Hall. This is usually where the counselor plays off a skirt for children to go with the theme every year. Each Supercamp weekend (which usually happens yearly) has a theme, some have been Dino Dig, Talent Show, Fantasy, Sweets, Seasons, and more. Kids have a kick out of watching the counselors make a fool of themselves, running around and playing games with them!
Counselors dressed up as bikers for Evening Night Program
Counselors dressed up as surfers for Evening Night Program
Campfire: After the Evening Night program counselors will lead their Pride Groups to Campfire. It is a large set up of wooden bleachers on the side of a hill where campers and counselors sit in a half-circle around a large fire pit. A large campfire will be set up and burning away while Campfire happens. Counselors are always in charge of what happens here and a lot like Evening Night Program goes along with the theme. It's filled with skits, games, and songs. The goal of the night is to wear out the campers for the night!
This year's Supercamp's theme was "The Seasons of Change," counselors set the theme of every night as a different season. Friday was spring, Saturday morning was summer, Saturday afternoon was fall and Sunday was winter. During Campfire the theme of the day was fall. So the Campfire Committee (the counselors that were in charge of Campfire that year) made Campfire all about a fall festival where 7 counselors had a pie-eating contest, campers who volunteered went apple bobbing in front of everyone and ate donuts off of sticks! Campfire is almost always a kid's favorite!
Counselors during a pumpkin pie eating contest during Campfire
Snack and Slideshow: After Campfire counselors take their Pride Groups to the Dining Hall where every child will be given a s'more (or cookie if they don't want a s'more) and Supercamp soup. Supercamp soup is a big pot mixed with all kinds of soups, usually, though only chicken noodle and tomato are put into the soup, things such as clam chowder are left out so the flavors will blend nicely. Then kids will sit down at the table facing the back wall where a large slideshow put together usually by staff is played once everyone is seated. The slideshow consists of pictures throughout the weekend to show all of the fun memories counselors, staff, and campers made throughout the weekend. (You used to be able to purchase a disk with the slideshow on it, but now it can be found on Supercamp's YouTube channel.)
Supercamp soup
The Third Day of Camp (Sunday)
Vespers: Campers are woken up once more at 7 am bright and early by their counselor. After everyone is ready and having breakfast they head to a program called Vespers. Which is the reflection of camp. Everyone (usually in Pride Groups but can also be a cabin it depends on what the Vespers Committee decides that year) takes one big walk to the Vespers location. The location is a bunch of wooden benches in the middle of the forest by the river which will run and give a nice soothing sound. Everyone will be seated and the leader of the Vespers Committee will start. The goal of Vespers is to have children look at what they have learned this weekend and over the theme. Sometimes they will sing a calm song, sometimes they will be given a gift like bubbles or candy, something that relates to the theme of the year.
Optical Sessions: After Vespers, kids will be separated into Pride Groups where they will be able to sign up for an Optional Session. There are usually about seven groups that are run by the counselors. They can range from Gaga Ball, Dance, Arts N' Crafts, Camouflage (which is like a hide and seek but the seeker does not move from where they are standing), and other games and activities that counselors lead.)
Gaga ball!
Counselor Hunt: Counselors will lead their campers to the Rec Hall before taking off, this is where staff will keep an eye on them. This is a game for the kids that involves the counselors. Each counselor will run off and find a place to hide within the camp. During this time campers will play games and sing songs in the Rec Hall. They will also inform the campers of the rules and when the bell rings they are off. Each time a kid finds a counselor that is hiding they will be given a card. When the game is over (usually lasts 15 minutes) before the kids and counselors are called back. Then each kid will put a vote in for their favorite counselor to get pied in the face at Closing Circle.
Counselor Slaughter: Counselor Slaughter is a game that only involves counselors once again but for the campers to enjoy. It is a game where counselors will "fight" to win. This year in October it was the Original Slaughter. There is a large rope circle and all of the counselors will get inside. Then they will get on their hands and knees and will try to push each other out of it only using head, shoulders, and back, and sometimes their butt and hips. The goal is to be the last person standing while getting as many people as they can out. In the October 2021 Supercamp it had rained Saturday, so the counselors were wrestling in the mud! By the end, everyone was covered in mud and the campers had a great time watching their favorite counselors wrestle in the mud!
Counselor Slaughter picture (after the fight)

Closing Circle: The Closing Circle is the last event of Supercamp, it's a little after counselors get changed and cleaned up after Counselor Slaughter. It's when all of the camp, staff, campers, and counselors get in one big circle. Counselors will then get on their knees and wait to see who won the most votes to get pied in the face. Usually, it is two female and two male counselors that get pied in the face by chosen campers (who are chosen by staff). Then after the pie in the face, we all hold hands, say last-minute announcements and then we sing a couple of closing songs like "Make New Friends" and "Surprise Surprise". Once we are done parents will have gathered at this time and will then check out their campers. That will wrap up Supercamp till the following year!
Interested?
If you are interested in registering your child for camp or if you are 14+ and would like to sign up as a counselor please check out the following links or check out Supercamps website! You can also donate! it will help the camp out quite a bit if you do.
Supercamp Website: https://www.supercamp.org/
Donate: https://secure.squarespace.com/checkout/donate?donatePageId=5e308f6f53cb8147a75354b6&ss_cvr=f7f75871-30b6-4589-8fa5-0e1bd412c913%7C1633549332792%7C1633549332792%7C1633549332792%7C1&ss_cvt=1633549332792&websiteId=58a769cbbe6594a08412576d
Events: https://www.supercamp.org/events
Store: https://www.supercamp.org/store
Contact Information: https://www.supercamp.org/contact
YouTube Channel: https://www.youtube.com/channel/UCE6cWeiAuaww-6xN5MinP6Q
Everyone in camp! (staff, counselors and campers)